2018 Quikcard Minor Hockey Week ready to begin
---
---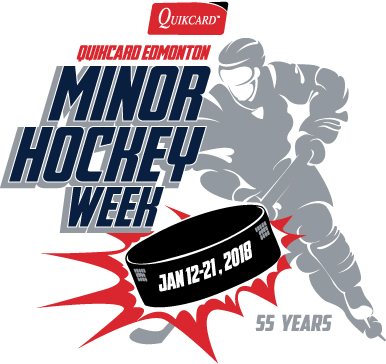 ---
The 55th edition of the Quikcard Edmonton Minor Hockey Week tournament starts on Friday, January 12 and runs until Sunday, January 21.
This is the world's longest consecutive running tournament. There will be 837 games played over 10 days on 35 sheets of ice. There will be 69 finals played on January 20th and 21st at the Terwillegar Arenas. Every team is guaranteed two games.
Admission fee for the tournament is $5; single game admission is $3. The $5 button also gets you free coffee at McDonalds throughout the tournament.
Please note that all of the individuals working at the games are volunteers (time keepers, button sellers, checkers, Arena Managers etc) and that all of the Referees VOLUNTEER their time during the tournament.
The Hawks will have 18 teams competing this year in the novice, atom and peewee divisions! Full schedules for each team can be found by clicking on the category name in parentheses; please refresh your browser to ensure that you get the latest version of the schedule.
The opening game for each of teams is posted below:
NOVICE
NW273 (2A-Virgil) vs TBD, Jan 13, Westwood, 16:30
NW274 (3C-Eliason) vs NW325, Jan 12, Bill Hunter, 18:30
NW275 (4B-McLean) vs TBD, Jan 13, The Meadows West, 11:45
NW276 (4C-Bahnsen) vs NE126, Jan 13, Clareview B, 9:45
NW277 (5C-Williams) vs NE127, Jan 13, Russ Barnes, 11:15
NW278 (6A-Hein) vs NW279, Jan 13, Grand Trunk, 8:00
NW279 (6A-Hein) vs NW278, Jan 13, Grand Trunk, 8:00
NW280 (6D-Kirillo) vs TBD, Jan 14, Coronation, 10:00
ATOM
NW281 (1B-Maple Leafs) vs NW342, Jan 13, Grand Trunk, 11:15
NW282 (3A-Senators) vs NW344, Jan 13, Coronation, 13:30
NW283 (4A-Devils) vs KC074, Jan 12, Westwood, 19:00
NW284 (5B-Blackhawks) vs EN224, Jan 13, Crestwood, 14:45
NW285 (6A-Blues) vs SG861, Jan 13, Crestwood, 12:15
NW286 (6D-Kings) vs NE130, Jan 13, Clareview B, 11:00
PEEWEE
NW287 (2A-Shave) vs NW361, Jan 13, Grand Trunk, 16:45
NW288 (4A-Sollanych) vs NW364, Jan 12, Glengarry, 19:30
NW289 (5B-Nitz) vs KC096, Jan 13, Coronation, 17:15
NW290 (6B-McKinley) vs NE217, Jan 13, Londonderry, 15:45
Best of luck to all of our teams and athletes! GO HAWKS GO!