Letter to Families of Novice-aged Players
---
---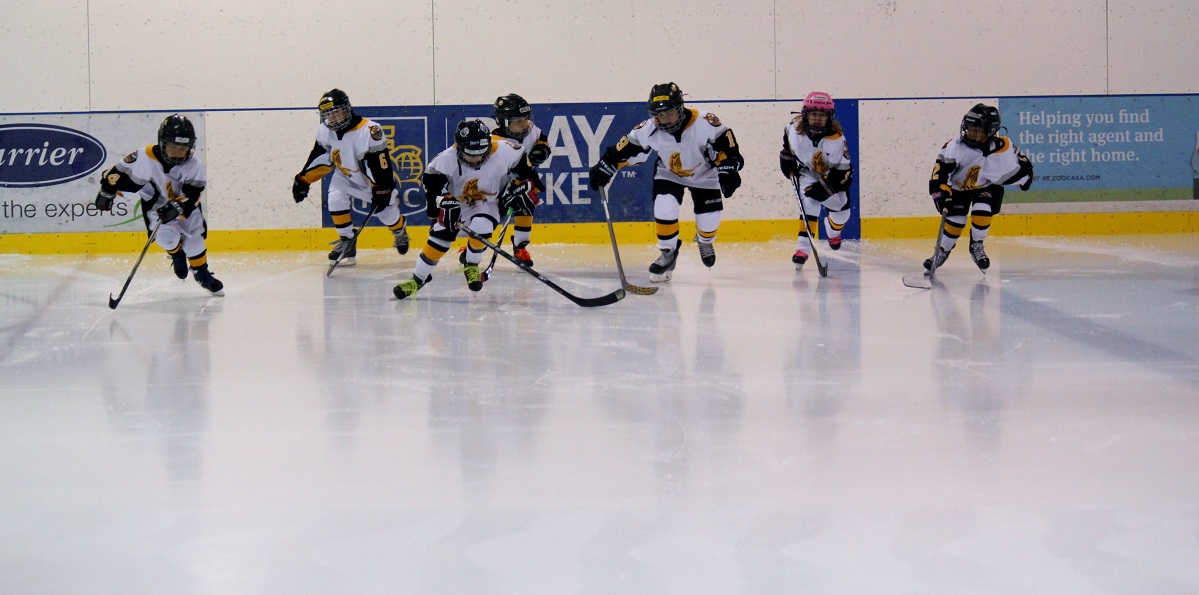 ---
Dear Hawks Families,
Hockey Edmonton has mandated a transition to half-ice hockey for Novice aged players, as per Hockey Alberta and Hockey Canada requirements. Justification for this change and what it means for your child can be found on Hockey Edmonton's website:
Hockey Edmonton 2018-19 Novice Transition Program
Information Bulletin - 2018 AGM Recommendations
Additional information on new program can be found from:
Hockey Edmonton Novice Program Resources
Hockey Canada Novice Hockey Program
WHY PLAY HALF-ICE HOCKEY?
This change is part of a larger trend motivated by the challenges of developing young hockey players on adult sized rinks. Hockey USA has released a video that demonstrates how big a full-size rink is to young players.
Clearly, playing on a full-size rink is not more fun for the players! The distance between the goals is huge relative to the size of the players, consequently players spend more time without the puck, and when they have the puck they are doing less with it. This undermines the skill development of both beginning players and those with advanced skills. It rewards the fastest kids on the ice in a straight line, but it does not require them to develop the full range of skating skills, edges, turning, lateral mobility, stopping, etc. necessary to be an elite player. Beginning players have less fun because the scale of the ice is so large, while the skills of more advanced players are stunted because the exaggerated effectiveness of straight-line speed on the big ice means they are not required to develop other skills to have success. In terms of puck skills, the research is unequivocal - half-ice games result in more puck touches in a confined space for all players, thus requiring them to develop skills that are conducive to the way the game is played at higher levels. This is why coaches of elite-level teams regularly incorporate small area games into their regular practice routine. More information on the importance of small area games can be found from:
For these reasons the Hawks Athletic Club is broadly supportive of this change. From the perspective of the development of hockey skills and the cultivation of the enjoyment of the game, the philosophy behind the change is sound. Young players under the new guidelines will play a game scaled appropriately to their size and ability, they will get more ice-time, more touches of the puck, develop better skating and puck skills, and will ultimately have more fun.
WHAT DOES THIS MEAN FOR YOUR CHILD?
The effectiveness of this model depends upon the way in which it is implemented by participating organizations. We want to let you know the practical steps that we were taking as part of our implementation of this program.
For the newly created Major Novice program, for children born in 2010, the changes from the existing Novice program are minimal. These teams will be tiered as in the past and play full-ice games as part of a regular Hockey Edmonton schedule. All of their practices will be half-ice, and they will receive an additional six practices from their regular fees. There will be no full-time goalies at this level, players are restricted to a maximum of 40% of games in net. The Hawks will provide all teams with goaltender equipment. This program will exist for one year only as part of the transition to half-ice throughout Novice.
The changes to the Minor Novice program, for children born in 2011, are more significant. Under the old program, each Novice team would have played 20 full-ice games plus playoff games and received 20 practices as part of their registration fees. Under the new program they will play 16 half-ice games with no score kept and no standings, while receiving 30 practices as part of their registration fees, an increase of 10 practices. As with Major Novice, there will be no full-time goalies at this level and the Hawks will provide each team with goaltender equipment.
While the Minor Novice program is a significant departure from the old Novice program, it does not repeat the "introduction to hockey" function provided by the Timbits program. The focus is on the development of skills, including the skills of advanced and experienced players. Players will go through an evaluation process and be placed on teams according to their ability. These teams are tiered (1-6) and will play 4v4 games, with referees, against teams placed in the same tier. This will ensure that players practice with, and competing against, players at their level. Unlike Timbits teams, Minor Novice teams are allowed to fundraise and have cash calls to schedule additional practice time or other hockey development time.
OUR PLAN FOR SUCCESS
The key to the successful implementation of this program, with the primary focus on skill development, is running fun and effective practices, making use of multiple stations to allow for increased repetitions of the skills that players will require to fully enjoy the game over time. Doing this effectively requires developing coordinated practice plans that scaffold skills in a progressive manner, and it requires coaches who have been trained at running these practices. To this end, the Hawks are committed to:
providing all Minor Novice Coaches with a season plan of practices provided by an experienced and certified coach
providing ongoing coaching development to our coaches targeted to the development of the Novice program, and
assign unused or "black" ice for free skill development (for players) and coaching development (for coaches) sessions operated by our most experienced coaches.
Questions or concerns regarding our implementation of the Novice Hockey Program can be directed to Mike Ferguson, VP Organization and Communication, or Dave Brown, VP of Hockey Operations.